Aviation is engrained in the quality of life for each one of us. The world economy is heavily dependent on flying as a way of transport for people, products, and services. According to the United States Bureau of Transportation, U.S. airlines alone carried 674 million passengers in 2021. This does, however, come with environmental tradeoffs. Flying contributes to approximately 2.5% of global CO2 emissions and from a broader view, has implications beyond pollution such as energy usage and waste disposal. Thus, it comes as no surprise that the aviation industry has a strong desire to make flying more sustainable.
Regulatory authorities including the FAA and EASA issue reports each year to properly understand the impact of aviation on the environment. Standards are implemented across the globe to ensure environmental goals are met.
MPS, among many other companies within the professional aviation industry, is invested in the mission to 'fly greener'. At MPS we ensure we meet our environmental goals in six impactful ways:
1. MPS has a solar panel roof installed on its factory in Groenekan to offset total power usage and build our FTDs with green energy only.
As of last month, our factory has been powered by our solar panel roof! Bata Energy Solutions installed 298 panels which are expected to generate 117,930 kWh annually. We are thrilled to introduce this renewable source of power to our operations so we can continue to play a much larger part in reducing our environmental footprint.
Yes, we know what you are thinking- sun in the Netherlands? Lucky for us solar panels can still generate power on cloudy days and our rainy weather will keep the panels free from grime that could reduce efficiency. You can think of the rain as an occasional solar panel bath.
2. Reduce, reuse, and recycle: AT MPS we start our simulators from a retired airplane.
MPS is committed to providing our customers with the highest fidelity possible. Unlike most professional flight simulation companies, our FTD simulator build starts with a retired airplane. This ensures that the cockpit is as realistic as possible, down to the details of knobs. Planes have a limited lifespan but instead of sitting in aircraft boneyards waiting to be scrapped, MPS gives new life to the shell, seats, instruments and more, creating aircraft-specific flight decks.
When training in MPS simulators, pilots are repurposing a plane that already had a long history in service and will continue to its next purpose – training the next generation of pilots. In fact, some of the planes that have come through our factory were flown in the past by employees who used to work as pilots at airlines. In 2020, we acquired a plane originally owned by Transavia Airlines where our Chief Executive Officer Philip Adrian started his civilian flying. He flew this plane many times in his early career! Talk about a continuous circle.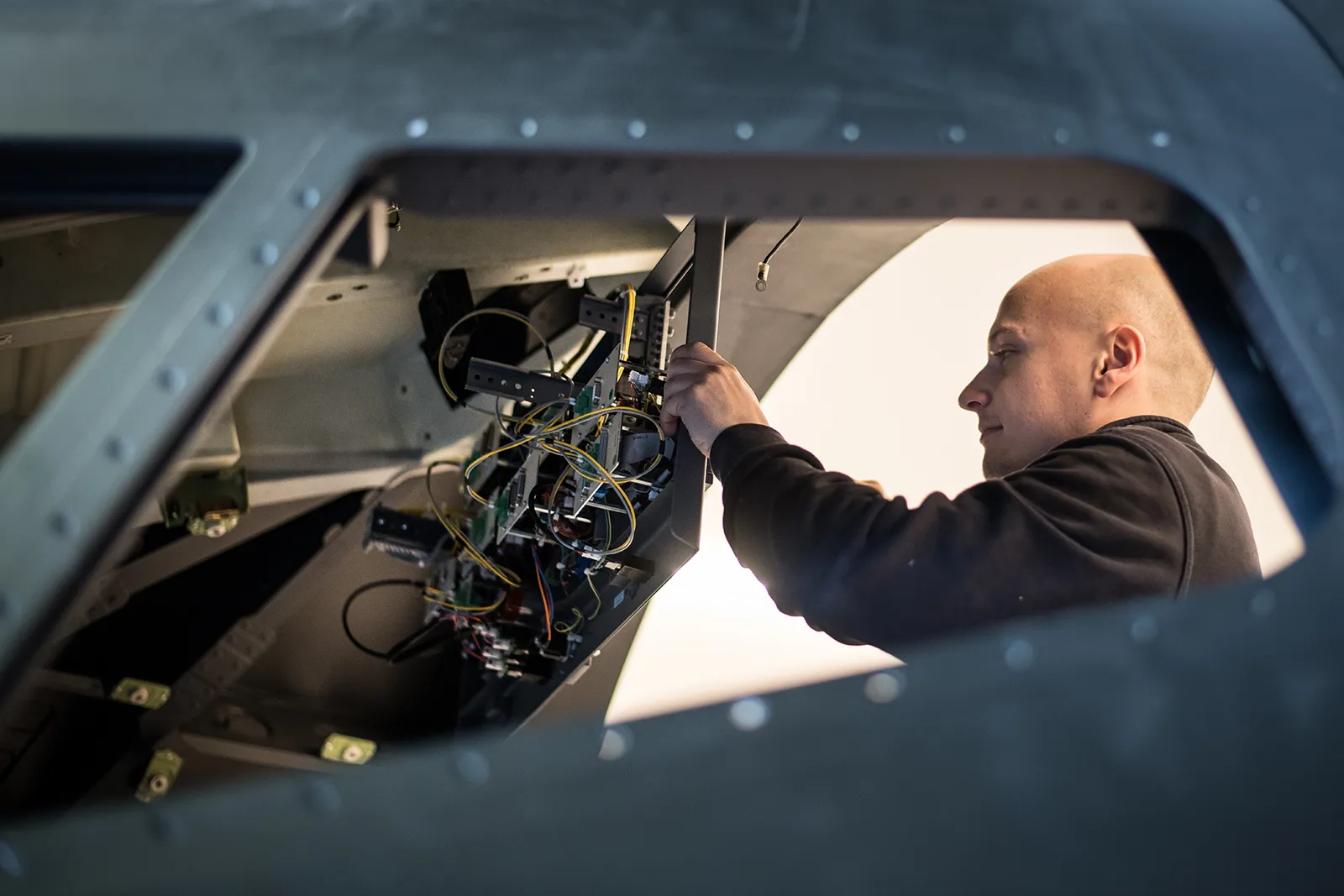 3. MPS supports its clients in reducing their environmental footprint by advising them on how best to satisfy their simulator needs between lower-level training tools, fixed based simulators and full-motion simulators.
Many of our clients are unsure of how to incorporate a fixed based flight training device into their existing training programs. Most programs typically only make use of motion-based simulators. Why? Mainly because this is the way it's always been done. It can be difficult to implement a fixed based device without a full understanding of how to navigate both regulations local to each region. This is where MPS comes in! Our team has the in-depth knowledge and expertise to work together closely with customers. We view our relationships as partnerships, and we fully understand the needs of training centers and airline training organizations.
As an example, we recently partnered with Frontier Airlines. By late 2023, Frontier will begin operating two MPS A320 FAA level 5 FTDs. Frontier is the most fuel-efficient of all major U.S. carriers when measured by available seat miles (ASMs) per gallon of fuel consumed, making them 'America's Greenest Airline.' Their mission to fly greener spans every aspect of their operations and MPS devices will specifically support environmentally conscious decisions in training.
Philip Adrian, MPS Chief Executive Officer said: "MPS is very proud to partner with Frontier, one of the leading airlines in the United States regarding their view of advanced pilot training and qualification. Frontier is also an organization which shares the desire of MPS to fly greener. MPS devices are not only much more energy efficient than FFS devices, but we have also invested in a new roof on our factory, complete with an array of solar panels to offset total power usage and build the FTDs with green energy only."
4. MPS fixed-based simulators have a significantly lower environmental footprint in comparison to full motion simulators in operation.
Because our FTDs are fixed based, our clients can experience dramatically lower use of energy and virtually no maintenance requirements. It does not require nearly as much electricity to power our devices. This is a huge win in terms of greenhouse gas emissions coming from the electrical sector.
5. MPS fixed-based flight training devices take up less physical footprint at the customer.
MPS simulators have a lower facility requirement than FFS, leading to the possibility of installation at locations where there is no simulator training center. Typically, no new buildings need to be constructed thus reducing the physical footprint. Currently, MPS simulators are placed anywhere from office locations to simulator centers. Take a look at the video below of a real installation!
6. MPS brings the training to you: no travel needed.
As a bonus to being able to place our simulators virtually anywhere, we are effectively able to reduce the need for pilots and their organization to travel by plane to visit training centers each time they need simulator hours. This is another small step in how MPS assists our customers to reduce emissions and increases flexibility and pilot availability.
The truth is, even with all these measures in place, we can always do more. MPS executives are actively part of the larger conversation about how to reduce global aviation emissions, even within regulation, and we will continue to strive towards a greener future at home in our factory as well as abroad with smart technology, ecological sourcing of components, continued education and more with our MPS simulators employed across the globe.
We encourage you to do your small bit to go green to keep this world clean. Though no one can make a brand new start, anyone can start now and make a brand new ending.
Sources
https://www.easa.europa.eu/eco/eaer
https://www.easa.europa.eu/en/domains/environment
https://www.faa.gov/sustainability