The 19th Asia Pacific Airline Training Symposium (APATS) takes place at the end of this month, August 29-30, at the Marina Bay Sands in Singapore. In addition to taking part in the pilot training conference and the preceding Head of Training event, MPS will also be exhibiting and MPS CEO Philip Adrian will be speaking on day 2 of the event.
As usual, the conference will be broken into 3 streams: the pilot training conference, the maintenance conference, and the cabin crew conference. For us of course the focus is on pilot training.
Ensuring the Pipeline: Training the Next Generation Through Next Generation Training
At MPS, you probably hear us talk about next generation training often. We are trailblazing a path together with regulators to update age-old ways of thinking about training, and in particular the expanded usage of FSTD's- what devices, tools and technology can be implemented for the modern learner all whilst increasing aviation safety and reducing operational costs.
Most often we refer to this as a blended training approach. Blended training is the next step in identifying proper training solutions for aviation training professionals. This is achieved by using the right tools for the training objective and selection of these tools via the task- or competency to tool approach in which technology supports training rather than driving it. The main goal is to support competency achievement rather than compliance. Don't miss session 6 on Tuesday for Capt. Adrian's presentation.
In Philip's presentation you will learn the essential differences in the current approach to training and qualification, such as time-based training versus competency-based and be introduced to the concepts of blended learning and the Task (or Competency)-to-Tool approach. He will also identify and provide solutions to address these differences while creating new methods to manage the pilot shortage in the future by identifying ways forward which use the best of all systems.
Topics of the Conference
Other highlighted topics to be discussed at the event include the following:
CBTA
EBT
AB Initio
Airline training issues
Human factors
Technology assisting training
MPS Exhibition Booth
MPS is located in booth 520 this year. We will have 3 MPS team members attending APATS- our CEO Capt. Philip Adrian, CCO Erik Jennes MsC., and Richard Verburg.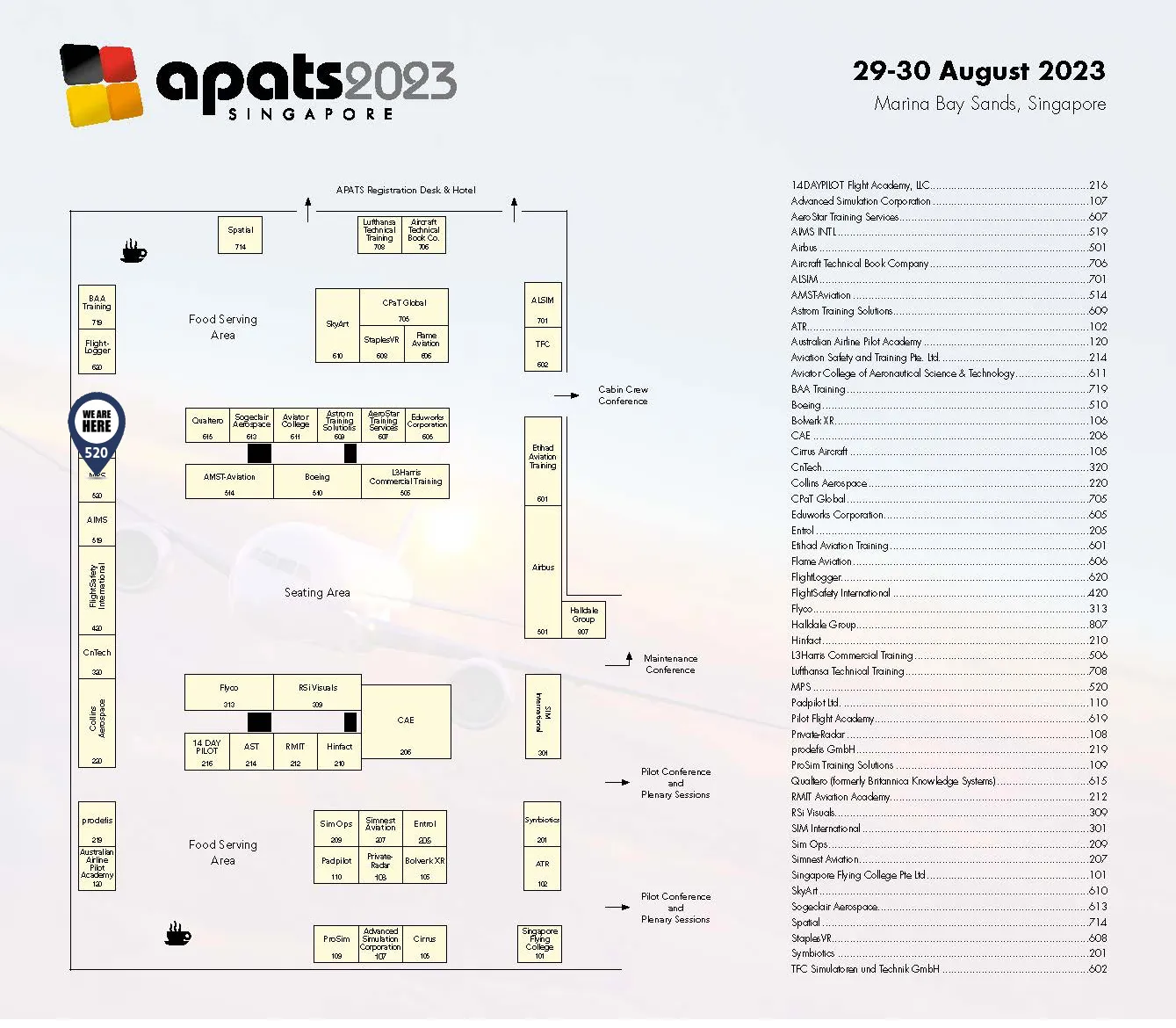 If after reading this blog you would like to schedule a meeting with us during the pilot conference, please connect with us through our contact page.
Please stop by our booth at any point during the conference with questions regarding our smarter simulators. We will be happy to answer them for you! If you cannot attend, you can also check out our Frequently Asked Questions page or message us directly.
See you at APATS 2023!
Sources: