MPS has been awarded a contract by Finnish Aviation Academy (FINAA) for an A320 FTD. The simulator is expected to be delivered to FINAA located in Pori, Finland by the end of 2021.
Established in 2002, FINAA serves the professional aviation industry in Finland and trains its customers from across the globe. With the addition of the MPS device, FINAA will be further supported in its strategy to deliver airline ready pilots.
Erik Jennes, MPS Chief Commercial Officer said "MPS is excited to support Finnish Aviation Academy in providing high-quality training with the delivery of our A320 Std.2.0 FTD. This will be an important extension of Finnish Aviation Academy's training capability and MPS is proud to be a partner in this endeavor."
The MPS device will simulate the A320 Std 2.0 ceo/neo and includes advanced options such as MPS instructorless training.
Juha Siivonen, FINAA's Managing Director said "We are excited to get the latest generation high fidelity A320 FTD to provide our FINAA students the best training and highest possible competence for their airline pilot careers."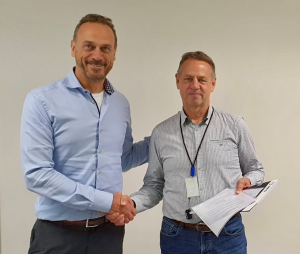 MPS CCO Erik Jennes and FINAA Managing Director Juha Siivonen
About Finnish Aviation Academy
Finnish Aviation Academy (FINAA) has 35 years' experience in ab initio professional pilot training, originally as Finnair Aviation Academy (1985-2001). Since 2002 they operate as Finnish Aviation Academy and will celebrate their 20 year anniversary at the end of this year. FINAA has trained over 1000 pilots. In addition to the ab initio pilot training FINAA is one of the leading Embraer Phenom 100 and King Air type training providers in Europe as well as for customers from across the globe.